Siding Services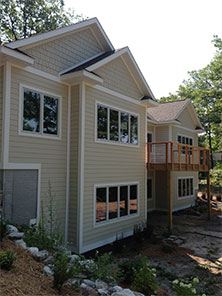 There are a lot of different factors that go into making a selection on siding. For many people, finding something that is low maintenance is a priority, while others are more concerned with aesthetics. There are a lot of options that fulfill both needs and we work with you to see which option is best for you and your budget. We also know which manufacturers to trust and will guide you to those that we know will stand behind their product.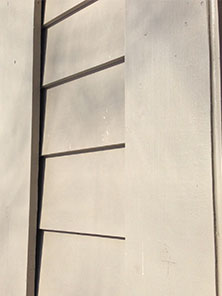 WOOD SIDING- Wood is a great siding option for those most concerned with appearance. Sometimes it is a necessity in keeping with a traditional or rustic look. The advantages are certainly in the visual appeal, however, it has become harder to find quality product at a reasonable price, making this often an expensive option. Another disadvantage is the significant amount of maintenance that wood requires. As the product ages, it needs stained, painted, etc. more frequently with it eventually deteriorating to a point of replacement. Many homeowners also find themselves battling woodpeckers. The good thing about wood siding is that it is a proven product with a clear expectation of performance and longevity. There are a few engineered wood siding options that attempt to accomplish the aesthetic of wood at a lower price. We have used a few of these with success so far, but have no idea how well they hold up in our environment long-term.
VINYL- For those truly looking for a zero maintenance home, vinyl is the best option. The market for vinyl siding is very competitive with a lot of great options. It is important to stick with a reputable manufacturer like Certainteed or Alcoa to help ensure reliability. These manufacturers have invested in technology that they say makes their siding fade-proof, even on dark colors. So far, these claims have proven to be true in typical applications. There are many different vinyl styles and variations within each style to choose from. From lap siding, to board and batten, to shakes, there is an option for virtually every need. Another advantage is price. The lap siding is one of the most affordable options you can cover your homes exterior with, although the shake panels jump up in cost significantly. Vinyl siding typically has an assortment of trim accessories to go with it that also help keep vinyl affordable.
FIBER-CEMENT- Fiber-cement is a great option that accomplishes both an aesthetic of wood with a longevity closer to vinyl. It is a painted product though, so eventually there will be some maintenance, although the paint holds significantly better than wood. The threat of woodpeckers is also eliminated. They haven't perfected a paint that is fade-free yet, so if there is a side of the house that gets baked in sun, some fading of the paint may be experienced. The product itself is extremely durable once it is installed. Fiber cement siding can come either smooth or woodgrained to look like cedar. We often partner this siding with a PVC trim to create an exterior package that you won't have to worry about for decades. Fiber cement is more expensive than vinyl in both materials and labor to install. There are also fiber-cement shake panels. These are one of the most costly products on the market for both labor and materials.
EXTERIOR TRIM- As with wood siding, for many years naturally durable wood exterior trim was a standard. It shares all the disadvantages of wood siding, which is why composites have been so popular. There are all different types of composite trims but the one we prefer to use is a PVC base called Certainteed Restoration Millwork. It is made of PVC and can not deteriorate or rot, which makes it hold paint well when appropriately installed. It comes white and many choose to simply leave it white making it truly maintenance free. This PVC trim comes in a wood grain to look like painted cedar or it can be smooth. There is a plug system available that hide the screws to fasten it. Certainteed Restoration Millwork is a great product, but, it is also pricey.
Based in Traverse City; Serving NW Michigan
We not only serve Traverse City with quality siding contractor / installer services, we our company also provides siding installation service in Lake Leelanau, Elk Rapids, Old Mission Peninsula, Antrim, Torch Lake, Williamsburg, Northport, Interlochen, Leland, and Glen Arbor.
If you are looking for an experienced Traverse City Siding Contractor, you need to give North Sky Exteriors a call today!