Deck Construction, Traverse City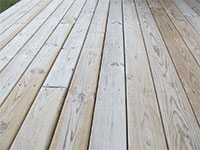 Decks are one of the most common and best ways to extend your living space into the outdoors. There are a variety of deck options from natural wood to composite products.
The most common and affordable wood product is pressure treated wood. When initially installed, pressure treated decking is green in color and often has a high moisture content from the treating process. Pressure treated wood eventually looses it green appearance to a weathered gray. Stains such as cedar are often applied to give the pressure treated a different look such as cedar. This can only be done after the product has had a chance to dry out. As with all pressure treated products, they are susceptible to expansion, contraction, warping, cupping, scratching, splintering, etc. The major advantage with pressure treated wood is that it is a fraction of the price of composites.
Other Decking Materials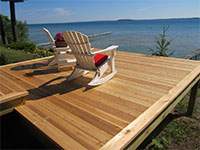 Cedar is another popular option for decking. It has a great look a reasonable price compared to composites. It is significantly more expensive than pressure treated though. Cedar still has the disadvantages of natural wood, especially denting and scratching since it is so soft. Costly stainless steel fasteners are recommended to avoid staining. Cedar quickly loses its golden reddish look for a sun-faded gray similar to pressure treated. There are many other natural hardwood options like IPE, tigerwood, and mangaris. These tend to be in the cost tier with composites.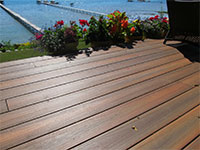 Composite decking is a popular option for families. No splinters, splitting, cracking cupping, etc. is a huge advantage. It is also very easy to clean. The main disadvantage is the high cost, the product is 3-4 times the cost of pressure treated per lineal foot. Installation is more difficult as well. Most systems have hidden fastener options. It is much more difficult to scratch than woods, but when it does, it is noticeable. As with wood, decking furniture will scratch it. Composite deckings are some of the most difficult products to warranty, which is why it is imperative that a quality company be used. There are many composite brands we will not install. We have seen composite decking expand and contract so aggressively it shears the fasteners right off. Our decking of choice is Certainteed Evernew.
There are many different options for deck railing. The most affordable is pressure treated rails and spindles, followed by cedar. There are a variety of custom cable rail and glass combinations. Many people prefer the low maintenance (and most costly) option of vinyl and fiberglass composite railing systems. A popular system that we prefer is Certainteed's Panorama.
One of the most common and actually dangerous issues that we see in homes is a failure to flash the deck to house connection properly. More often than not, we see the severe damage against the house rendering the deck insecure. Excessive snow load or many occupants, can tear deck away from the house. We make an assessment of your current deck flashing and framing system to ensure things are done correctly for this vital part of your home.
Serving Northern Michigan
We not only serve Traverse City with quality deck construction services, we also provide service in Lake Leelanau, Elk Rapids, Old Mission Peninsula, Antrim, Torch Lake, Williamsburg, Northport, Interlochen, Leland, and Glen Arbor.